jeffcook.io
My name is Jeff Cook. I like to work in system platform architecture and design. I live in scenic Draper, UT today, but I have lived in other cities in the past.
I do important work with important people! If you're important, read on.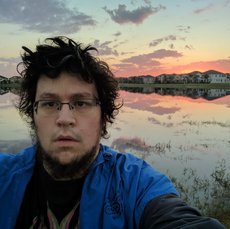 Have you seen my gator?
Overview
Quick overview:
Entrepreneurial, founded multiple companies. They're kind of OK.
Self-didact coder since elementary school. Sure, I know that thing, or I'm excited to learn it.
Full-time Linux workstation user for over 10 years.

Prefer Arch Linux for my main workstation, Ubuntu for laptops, Debian for servers.
Patches submitted and accepted upstream into the Linux kernel, WINE, and WebKit, among others. Check out my GitHub, which contains none of these patches, because they were made and issued before GitHub was a thing. But there's a bunch of other little stuff on there, like this recent patch to netdata, for which I was listed for the netdata Contributor of the Month Club Award.

Always open to pitches and projects.
Good at looking weird, feeling weird, thinking weird, being weird. But not in a weird way. In a good way.
See my resume [PDF] and the background page for more details.
Want to talk?
Mail me at jeff at this domain.